The Grand Towers - LOCATION
790 Pablo Ocampo Sr, St., Malate, Manila
Living at The GRAND TOWER means being near to Manila's prime spots. Located at Pablo Ocampo Sr. St. formerly Vito Cruz Manila. It is very accessible to schools such as DeLaSalle University, College of St Benilde and St Scholasticas College, shopping centers like Robinsons Manila and Harrison Plaza. The Grand Towers are also near Century Park Hotel & Banko Sentral ng Pilipinas.
The Grand Towers can lure in potential buyers because of its offer of sophisticated living experience. But the location makes it a practical option for condo buyers. Living here means you can stay in Taft Avenue and have easy access to the prime spots in Manila.
Taft Avenue is a major highway in Metro Manila. This particular highway crosses three major cities in the metro: Manila, Parañaque, and Pasay City. The road was named after William Howard Taft, who was the Governor-General of the Philippines during the American colonial period and also former US President.  This highway is accessible through various intersections and is connected to roads that lead to other destinations in Metro Manila including San Andres Street in Manila, Padre Fauna Street, Libertad/Pasay Road, Gil Puyat Avenue, United Nations Avenue, and EDSA. Getting from one point to another should therefore be easy and fairly accessible from the location of this condominium.
The Grand Towers is also located within close proximity to the University Belt area. This area is called as such since there are many universities, schools, and colleges that are located within a few blocks away from each other. Some of the universities that are located within the University Belt include UP Manila, Philippine Christian University, De La Salle University, Philippine Normal University, and Philippine Women's University. For high school students, living in The Grand Towers will also provide convenience as there are plenty of high schools like Manila Science High School and Araullo High School that are located in Taft Avenue.
With its commitment to make condo and city living more convenient, the central location of The Grand Towers is also ideal for those who want to enjoy their lifestyle. If you need to do some shopping or enjoy a leisurely time at the mall, you have a few options nearby. Some of the malls and shopping centers located close to The Grand Towers are SM City Manila, Harrison Plaza, Robinsons Place Manila, and SM Mall of Asia.
If you are in search of other leisure options within Taft Avenue, there is Rizal Park, which is one of the most iconic landmarks of the country. If you access the park via the Taft Avenue entrance, you can also check out the National Museum of Fine Arts and National Museum of Anthropology. For some pampering, go to Foot Zone in Taft Avenue to enjoy a relaxing massage and spa experience. You can also treat yourself to some of the best restaurants in the area which includes Flaming Wings, Tori Box, Bagnet 8065, and Zark's Burgers.
For your other basic needs, Taft Avenue offers accessibility to the following establishments: Manila Doctors Hospital, SM Lazo Medical Clinic, NBI, SSS office, San Isidro Labrador Parish Church, Bangko Sentral ng Pilipinas, and more.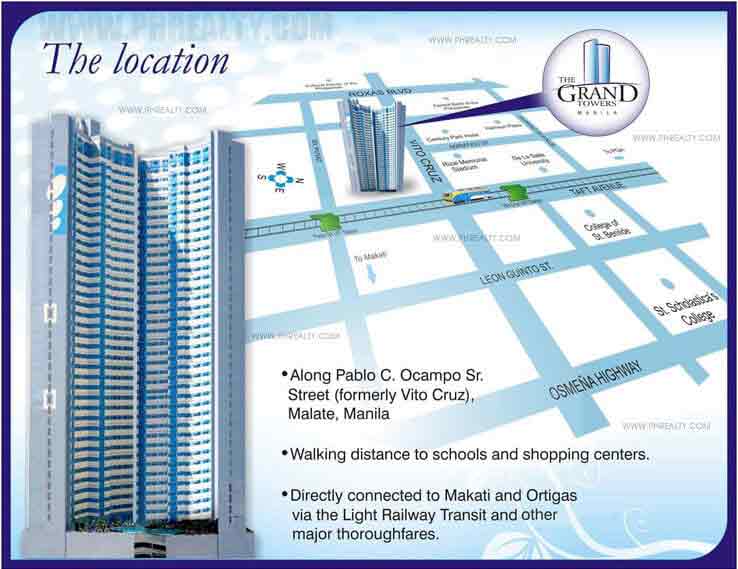 For commuters, The Grand Towers is also accessible to the public transport systems. This will make going to and from work or school more efficient. Taft Avenue is accessible by various transport rides like jeepneys, taxis, and the MRT Line 1 and 3. The LRT 1 station and MRT 3 stations are located in Taft Avenue.